Ever since I read up on religious polarity for my degree I've been fascinated with the subject. For those of you who are not aware of the subject, it originates from ROBERT HERTZ, THE PRE-EMINENCE OF THE RIGHT HAND: A STUDY IN RELIGIOUS POLARITY which investigates the origins of left and right symbolism, concluding it stems from a religio-cultural understanding which has transended are everyday attitudes and aesthetics. For example, take language, Right= Righteousness whilst Left= Sinister the Latin word for left).
Well recently I came across this
article
which notes how this polarity and symbolism differs in eastern cultures, specifically Japan.
Now some of you may know the Japanese read right to left rather than our system. This is actually something which originated out of this polarity, It has effected everything from architecture to language. With this is mind I thought, has this polarity infiltrated Japanese comic book forms. So having a look at a few books on my shelf, Dragonball, Yugioh, Excel Saga and Cromartie high I noticed that this symbolism was clearly present in several instances, often during battle scenes or scenes depicting a ranking.
In contrast to various western comics we can see an emphasis on the right is used. For example captain Britain's use of his sword in his right hand.
Again we can see the use of the right hand in other characters such as Gamibit
In eastern comics which do not depict the hero on the left, an emphesis on strength is often the case. For example, the picture below shows the strongest player (the apponent) vs the main character....
However when strength is not the issue in play but a moral one the Hero is often placed on the left. For example in Dragonball it is common for Goku to be depicted fighting on the left side of the arena because the character represents virtue.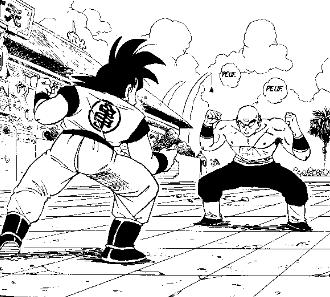 Now I know these don't always apply, or most of the time the artists aren't even aware of them. However if one does examine the various polarities in a variety of texts and context it does become quite observable.
Now with this in mind I've begun to ponder the question, is this the only difference comics have when it comes to religious imagery/attitudes. Are their other developments in the art form which may have religious undertones which are not quite as obvious (such as the case for polarity) and which cultures place a stronger emphasis on particular traits.
So just for fun I intend to do some research on this matter and see what I can come up with. As part of my methodology I intend to view a variety of comics which both directly and indirectly use religious imagery and themes, and compare them across cultures. I also intend to examine the backgrounds and motivations behind the symbolism and styles to see why they have developed in such a manner. I will for this purpose be using a variety of accademic texts in conjuncture with popular literature regarding comic book history.
I hope to report my findings back end of the month.

Hourglass




Posts

: 466


Join date

: 2009-12-28



I do recall when getting my 1968 & 1969 Sparky books, bieng rather `Peed off` at Dudley Watkins religious stuff! I don't buy `fun` comics/books for that! Me Mom wrote Thomsons a strong letter about it!

alanultron5




Posts

: 453


Join date

: 2010-01-04


Age

: 66


Location

: Wonderful, wonderful Wolverhampton!!



Good to see you were in the pub a lot whilst studying for your degree! Whilst studying, did you not come across the fact that over 90% of the world's population happen to be right handed? Something to do with the brain, I believe. Left handed people tend to be more ambidextrous than right handed - 9 out of 12 according to Blue Peter. I'm left handed, but would throw with my right - so that would make me one of the those nine. Nothing to do with religion. Like most things it's to do with how the individual brain works. And don't forget - people had brains before they had religion. Are you expecting me to believe that Ug the Caveman didn't know which hand to use because no-one had invented God and religion in his time?
...and I neglected to say that I can throw with my left hand too. And write...
What an interesting subject. I'd like to recommend a book that may not touch upon religious polarity that much, but is an interesting general book on the subject of religious symbolism in comics: Mystics and Mutants by Jeffrey Kripal. (If you aren't already aware of this book.) Kripal is the chair of the religious studies department at Rice University.

martinsteinrip




Posts

: 5


Join date

: 2012-03-16



Never heard of it, but it does look interesting and I see it's available on Amazon UK. I guess there really aren't many subjects someone hasn't written about...

tony ingram

Admin




Posts

: 6989


Join date

: 2009-12-24


Age

: 51


Location

: The Wilds of Suffolk



martinsteinrip wrote:but is an interesting general book on the subject of religious symbolism in comics: Mystics and Mutants by Jeffrey Kripal.
That I'll have to get. I am interested in collecting all books on comics and superheroes, especially the more academic studies. Mind you, some of them are VERY hard to find, but I keep reading about new ones.

Mbast1




Posts

: 1637


Join date

: 2012-02-02



I will say this, especially for Mike--- that Kripal is himself a believer of some paranormal stuff. So he wanders into territory that will make a card-carrying skeptic cringe. Otherwise, though, his historical documentation of tropes in comics is really thoroughgoing.

martinsteinrip




Posts

: 5


Join date

: 2012-03-16



martinsteinrip wrote:I will say this, especially for Mike--- that Kripal is himself a believer of some paranormal stuff.
I'm not that bad. I don't have to believe in what he believes to find his references interesting.
Well, I hope I'm not.

Mbast1




Posts

: 1637


Join date

: 2012-02-02



---
Permissions in this forum:
You
cannot
reply to topics in this forum